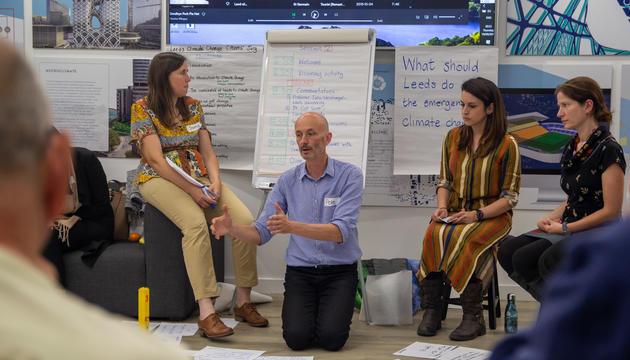 First PCAN Fund winners announced
5th November 2019 - 23:25
Five proposals are sharing £105,000 of funding from the first round of the PCAN (Place-Based Climate Action Network) Fund.
The winning proposals, which made it through a two-stage selection process involving almost 80 initial bids, include creating guidance for Citizens' Assemblies on climate change, future-proofing World Heritage Sites from climate impacts, and Climate Emergency Bonds. A project building knowledge and skills for a just transition to a low carbon economy, and another supporting local government officers to implement rapid carbon action have also been funded.
The projects are in the PCAN cities of Edinburgh, Belfast and Leeds, though all have national application potential.
The call for proposals opened in May 2019 and had 78 applications. Each proposal was reviewed by three members of the PCAN team and 13 proposals were shortlisted and invited to submit a more detailed bid.
Eleven full bids (one proposal dropped out and two proposals merged) were received and each proposal was once again reviewed by a trio of PCAN reviewers. Subsequently a panel, consisting of four PCAN members (one each from the Universities of Leeds, Belfast, Edinburgh and the London School of Economics and Political Science), plus two independent members from the PCAN advisory panel, made the final selection. (The Economic and Social Research Council joined this stage as an observer.)
Proposals will start in late 2019 / early 2020 and typically last up to one year.
Winning proposals
The five winning proposals and the amounts they will receive are:
Peter Bryant (Shared Future) and Lucy Stone (Agulhas Climate Hub): Climate Assemblies and Juries: the how and why (£10,000)
Edinburgh World Heritage Trust: Climate change risk and vulnerability assessment of Edinburgh World Heritage Site (£29,000)
Karl Harder (Abundance Investment): Building local green investment markets using Community Municipal Bonds (£11,00)
Clare McKeown (Belfast City Council): Building Capacity knowledge and skills in the transition to low carbon economy in order to ensure a just transition (£28,000)
Rebecca Willis (Lancaster University): Supporting local officers and politicians in three UK cities to implement rapid climate action (£27,400)
For more details on the winning proposals can be found here in the downloads below.
"Strong and diverse" field
For PCAN, Sam Fankhauser of the Grantham Research Institute on Climate Change and the Environment said:
 "I am very pleased with the first round of the PCAN Fund. Out of a field of nearly 80 submissions, we have selected five extremely strong and diverse proposals, which support both the analysis and practice of place-based climate action in the UK.
"The field was so strong that we decided to increase the total value of the first round fund from £75,000 to just over £100,000. The quality – and quantity – of the response to the first round call demonstrates the clear need for funding of this kind and we look forward to seeing what round two produces."
The second round of the PCAN Fund will open in April 2020.
Image shows commentators at the Leeds Climate Change Citizens' Jury with facilitators Pete Bryant and  Jenny Willis