By Andrew Sudmant, PCAN Associate from the University of Leeds, Professor Nick Robins, PCAN Co-Investigator from Grantham Research Institute, and Professor Andy Gouldson, PCAN Co-Investigator frm the University of Leeds
Building the infrastructure and skills for the transition to net-zero in the UK requires significant public and private investment to kick-start the economy in the wake of COVID-19. But how do we ensure jobs are protected, as industries move away from relying on fossil fuels? And where, both geographically and by sector, are these investments most needed?
To help policymakers at both the national and local level target their efforts, our team at the Place-based Climate Action Network (PCAN) has launched the Just Transition Jobs Tracker. This tool, developed as part of recent work on how to mobilise finance for a just transition, estimates how employment will be affected by the transition to a green economy.
The tool provides data for jobs based in a large number of UK geographies (including local authority, parliamentary constituency, local enterprise partnership and combined authority areas). In particular, it highlights:
Jobs requiring upskilling: These are existing jobs that require significant changes in skills and knowledge. These include specialised jobs in the manufacturing and extractive sectors, such as petroleum engineers and heavy equipment operators, whose skills need to be adapted to a net-zero economy.
Jobs in demand: These are existing jobs that are expected to be in high demand due to their important role in the net-zero economy. These include specialised positions in the green economy, such as wind turbine installers, but also the skills and expertise of welders, builders and engineers already working to build the infrastructure of a green economy. 
The results, based on the UK jobs market in 2019, provide insights on the priority sectors for just-transition planning, as well as the importance of taking proactive action locally. It is vital that we urgently prepare for the changes in jobs and skills the climate crisis demands. This will help us to ensure that nobody is left behind, and that as many people as possible are ready to get to work in the high demand jobs created by a green economy.
If handled effectively, transitioning to a green economy has the potential to lead to more jobs being available for workers.
Focusing on key sectors
Across the UK, our research has found that one in five workers, and 6.3 million jobs in total, will be affected by the transition to a net-zero carbon economy, with around 3 million workers requiring upskilling and around 3 million in high demand.
Around 80% of existing jobs will not be significantly affected by the transition, according to our data. However, few businesses are likely to be unaffected by it. Industries as diverse as manufacturing, agriculture, real estate, and scientific and technical services will all need to upskill workers in some parts of their business and hire new employees in others.
While demand for skills associated with high-carbon energy sources are declining, demand for skills in net-zero energy are increasing fast. For example, to retrofit all of the UK's building stock to become net-zero and resilient will require new skill sets, as well as a substantial expansion of the workforce.
Our tool identifies the construction industry, followed by manufacturing and transport, as the sectors where most focus is needed both to seize the employment boost of the green economy and in terms of skills and retraining. In these sectors, as many as 25% of workers are likely to require upskilling, but a similar proportion will be in high demand. So, whilst some sectors face more of a challenge than others, that comes hand in hand with a greater opportunity for sustainable jobs.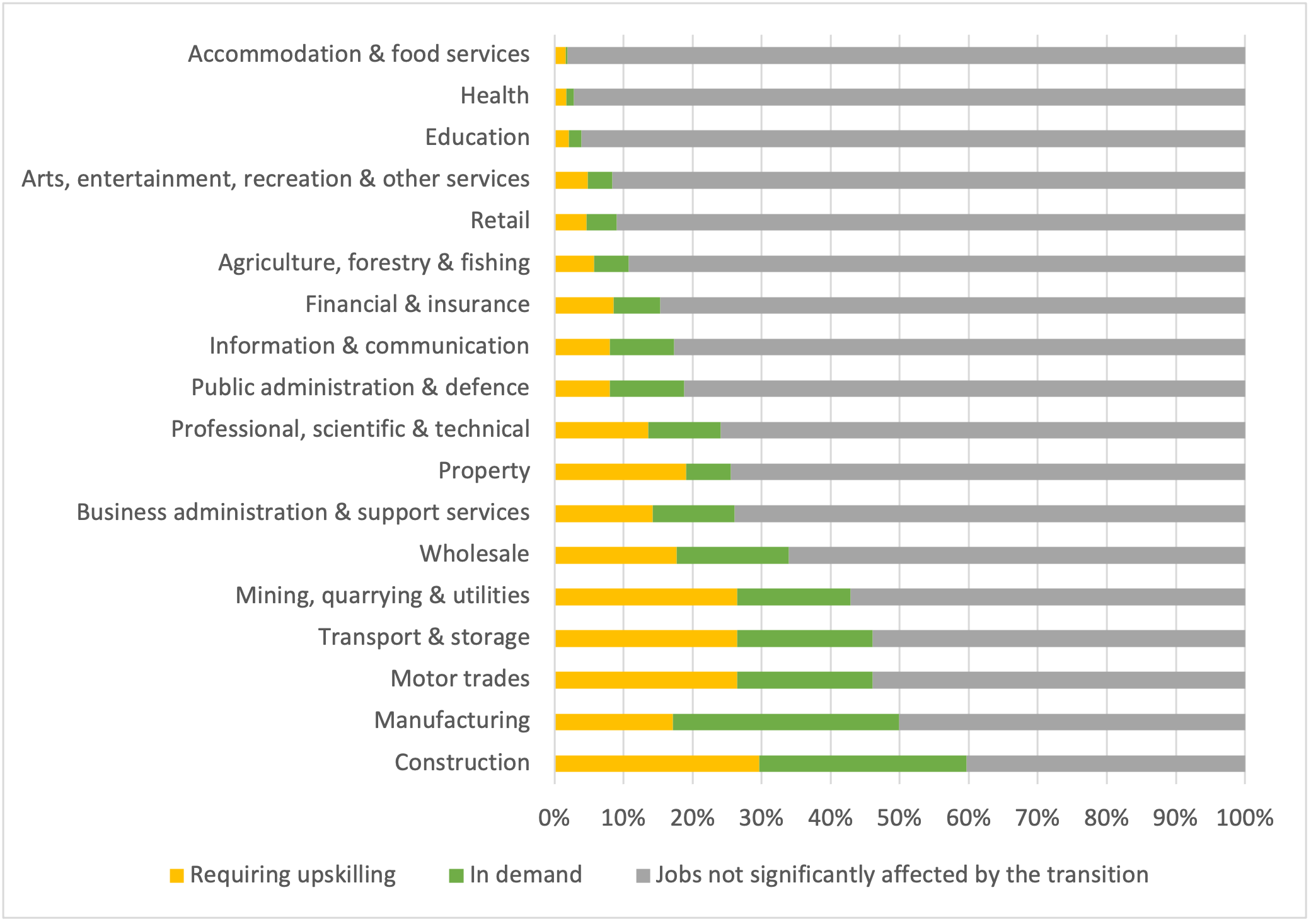 Figure 1: Jobs requiring upskilling, jobs in demand, and jobs not significantly affected by the transition, by sector
In response to this challenge, it is critical that we design industrial policy to support the sectors and regions of the UK economy most likely to be affected by the transition. Providing frameworks and links for academic, business and civil society partnerships could play a valuable role in advancing the skills transition. Without a committed effort to upskill workers to help them adapt to a net-zero economy, many jobs could be at risk of disappearing.
Taking a place-based approach
Levelling up the UK economy was recognised as critical before COVID-19. As the pandemic continues, the gap between communities whose workers could transition to working from home, and communities whose factories and businesses were forced to close, has made the gap between haves and have-nots even more stark. A place-based focus, however, can help to bridge existing needs for levelling up in the context of transitioning to a net-zero economy.
It is crucial that we assess and respond quickly to the impact of the net-zero transition on jobs in the most deprived parts of the UK. Table 1 shows the parliamentary constituencies in the top ten percent for multiple deprivation (i.e. are the most deprived), and ranks them by the proportion of their workforce affected by the transition. The West Midlands, Scotland, and Yorkshire and the Humber account for nine of these, but there is also one constituency in London.
On average, we estimate that around 14.2 per cent of the jobs in these ten constituencies will be in higher demand in the transition; substantially above the national average of 10.3 per cent. Alongside this, an average of 13.5 per cent of jobs in these areas will require upskilling, which is likewise higher than the national average at 10.5 per cent.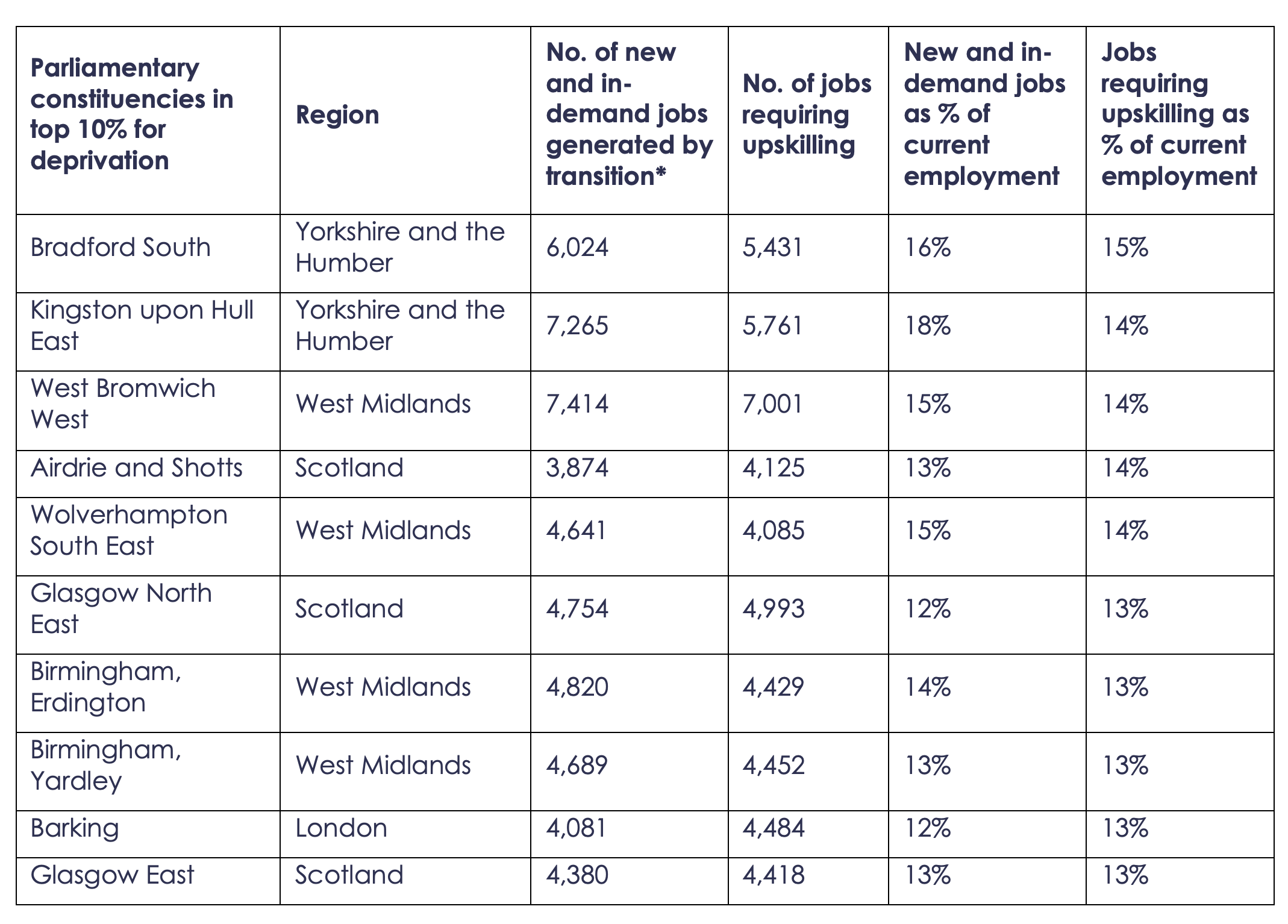 Table 1: Parliamentary constituencies with the largest proportion of new/in demand jobs and jobs requiring upskilling. Note: The underlying methodology for the jobs assessment is drawn from Robins et al. (2019). Source: Authors used data on deprivation by local authority from Abel et al. (2016) to account for differences between national Indexes of Multiple Deprivation.
The tool provides similar data by combined authority, country, local authority (county and district), local enterprise partnership, town/city, metropolitan county, parliamentary constituency and Scottish parliamentary constituency.
As we move from reacting to responding to COVID-19, and from planning to implementing the just transition, these findings suggest that some of the places that most need upskilling could benefit the most from ambitious transition policies and investments.
Informing action on the ground
The Place-based Climate Action Network is offering insights into the ways in which net-zero and climate resilience can be delivered "from the community up". Climate commissions have been established in in Belfast, Edinburgh and Leeds (and, increasingly, other places across the UK) to bring together people from the public, private and civic sectors to work collaboratively with local government and drive climate action.
Roadmaps with science-based targets have been developed to understand the options for the future and to guide discussions around the scale and the nature of change that is anticipated. Across the network of these cities and the wider community of local climate action, the linkages between net-zero, resilience and inclusion are becoming ever more important.
The Just Transition Jobs Tracker is designed to inform local decision-makers so that the principles and practices of the just transition can become a reality. This will not only deliver social benefits in terms of jobs and community renewal, but will also smooth the process of change by reinforcing the social licence for ambitious climate action.
The insights contained in the Tracker have already used by the UK100's Resilient Recovery Task Force, and we hope others will use this open-access resource to inform decisions to build the green economy of the future.
Further information
On request data are available showing the number of jobs by sector in a given area that are likely to either require upskilling, be in demand, or not be significantly affected by the transition. Please contact pcan@lse.ac.uk   
Download the Tracker below, or explore the data on the UK100 website.