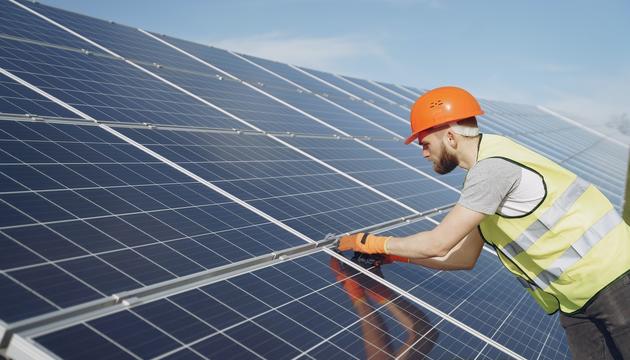 Residents want local authorities to act on climate change and to be part of the solution, new research shows
23rd June 2020 - 00:01
Research released today funded by PCAN (the Place-Based Climate Action Network) and carried out in partnership with Abundance Investment finds that residents want local authorities to act on climate change and are attracted by the prospect of being part of a collective solution. 
The mechanism to achieve this, Community Municipal Investments (CMIs), is a bond issued by local authorities through a crowdfunding platform giving residents the chance to support low-carbon projects, directly benefiting their own community. 
CMIs are being hailed as a breakthrough for hard-pressed councils to achieve their climate targets – and transform their relationship with residents.  
There is around £4bn of investable wealth per 100,000 people in the UK*. Currently this flows into global companies and funds, but CMIs offer the potential for people to invest in their local area and make a tangible difference. 
For councils struggling with the dual challenges of economic recovery from Covid-19 and responding to the climate crisis, CMIs can help bring forward projects to "Build back better".  
Despite a desire to see their local authority take a more proactive approach, only a minority of respondents (10%) were strongly aware that their council had declared a climate emergency or knew about climate actions taken or planned. The gap between these findings, and the popularity of CMIs with UK investors – 73% said they would invest in them – demonstrates an opportunity for local authorities to raise awareness by involving citizens directly in practical measures to reduce carbon emissions. 
Enhanced civic pride
The research, which was conducted across the UK as well as in Warrington, Leeds and West Berkshire, also shows that CMIs have the potential to enhance civic pride, build trust and create positive relationships with residents.  
The report finds: 
A heightened sense of urgency around climate change over last 12 months, especially relating to children and family. 
Higher levels of trust in scientists and people like David Attenborough and Greta Thunberg than anybody they perceived as having an ulterior (profit) motive.  
Mission-driven and transparent organisations and local authorities and companies who have purpose at their heart are trusted to deliver.  
Nick Robins, Professor in Practice in Sustainable Finance, Grantham Research Institute, who leads PCAN's finance platform said: 
"One of the key challenges we face is how to mobilise finance which responds to local needs for climate action. The Community Municipal Investment approach provides a mechanism for closing this gap, not just channelling capital to tackle the climate emergency, but also as this research highlights, providing a fresh way for local authorities to engage with their residents and communities." 
Local authority launches
The findings are already being embraced by the local authorities that participated in the project, along with Kingston Borough Council. West Berkshire Council is the first to approve the UK's first Community Municipal Investment, which will offer residents and community groups an opportunity to invest directly with them from as little as £5 to support projects, including installing rooftop solar panels on a building at Greenham Common and on local schools. 
Councillor Ross Mackinnon, Executive Portfolio Holder: Finance and Economic Development West Berkshire Council, said: "A particularly exciting point highlighted by the research is that residents may be open to donating some of their interest back to the council to further support front line services. If this comes to pass it could entirely change the way we think about funding council activities." 
Warrington Borough Council Cabinet has recently given the bonds the go ahead and will be using them to fund a solar farm in Cirencester, plans for which have been in development since 2018.  
Councillor Russ Bowden, Leader, Warrington Borough Council, said: "The Community Municipal Investment is a really innovative way of engaging people in the work we are doing. It's about engendering partnership working, building trust with communities and empowering them to play a part in creating a greener and more prosperous future. This scheme presents a fantastic opportunity for people to make a real difference." 
Leeds City Council will also be launching a CMI scheme. Councillor Lisa Mulherin, Executive Member for Climate Change, Transport and Sustainable Development, said: "The Leeds Citizens' Jury on Climate Emergency recommended the use of green bonds and crowdfunding opportunities to finance carbon-saving projects. As a result, we've been working with partners to progress this and we are looking forward to launching a scheme in Leeds later this year." 
Cause for optimism
The PCAN-funded project, carried out by Abundance Investment working with Space Doctors Ltd, was informed by earlier research into CMIs conducted by the University of Leeds, Abundance, and local authority partners called Financing for Society 
Bruce Davis, joint Managing Director of Abundance, said: "It is vitally important that people have practical ways to take part in fixing the climate crisis. If people do not see progress, they will lose hope. It is only when people feel optimistic that they will make the tough decisions to change their own lifestyles.  
"Issuing CMIs enables councils to tap the latent desire amongst their residents to take action, boosting confidence and signalling that real action is being taken together."  
*Data from HMRC – ISA Statistics & ONS UK Weath Data