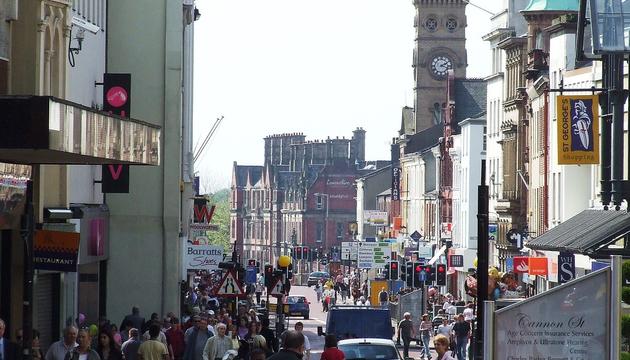 PCAN Fund 2020 awards announced
26th August 2020 - 09:59
Place-based projects in the UK have been awarded a total of £160K in the second round of the PCAN Fund.
The funding call, designed to stimulate wider place-based climate action, received more than 150 expressions of interest. These were reviewed by the PCAN team and a shortlist of 19 were asked to provide further information about their proposed projects.
Three projects and three Fellowships have been awarded. This is the first year that PCAN Fellowships have been created and Fellows will conduct their research at their own institutions as well as contributing to the work of the PCAN network.
The six awards are:
Integrating climate resilience and social justice into a framework  for recovery in Preston after Covid-19 (Mark Dooris, University of Central Lancashire)
Local climate governance: Developing  effective climate policy in a multi-authority local area (Ian Christie, University of Surrey)
Contribution of regional adaptation and insurance expertise to climate resilience (Nick Pyatt, Trioss)
Lina Brand Correa (University of Leeds): The green path to recovery: Towards a participatory and place-based economy (Fellowship)
Matthew Lane (University of Edinburgh): Place as adaptation: Understanding neighbourhood resilience in the aftermath of Covid-19 (Fellowship)
Alice Hague (James Hutton Institute, Aberdeen): Place-based climate action in north-east Scotland: Investigating climate action where urban and rural meet (Fellowship).
Further details about the projects and Fellowships are set out below.
Professor Sam Fankhauser, principal investigator for the ESRC-funded Place-Based Climate Action Network (PCAN) said:
"I am extremely pleased with the outcome of the 2020 PCAN Fund round. The three winning projects will make a rich and diverse contribution to place-based climate action, teasing out climate governance challenges, exploring place-based ways for a net-zero recovery from Covid-19, and addressing the growing challenge of climate resilience.  
"We have also given PCAN Fellowships to three exceptional early career researchers, who will engage with the PCAN core team for a year to deepen and broaden our work in Belfast, Edinburgh, Leeds and beyond."
Transformative recovery in Preston 
A citizen-led, co-produced approach to tackling the climate emergency and promote local economic and social benefits in Preston is the focus of a project led by the University of Central Lancashire. Integrating climate resilience and social justice into a framework for recovery in Preston after Covid-19 is an action-focused project that aims to harness organisational and community experiences of coronavirus and overlay two different economic models – the Preston Model and the Doughnut Model – to enable transformative recovery.
The Preston Model is committed to Community Wealth Building, reorganising the local economy so that wealth is not extracted but broadly held and income is recirculated. The regenerative and distributive Doughnut Model, now being tested locally in cities such as Amsterdam, is concerned to meet human needs within planetary boundaries and puts an emphasis on wellbeing, a healthy environment and the concept of "thriving".
The project will bring involve volunteer community researchers, including young people, and seeks to translate concepts and commitments from insights into both models into city-based actions, programmes and impacts, with outputs for dissemination within Preston and more widely.
Multi-tier and cross-county climate governance in Surrey 
How can a local authority area such as a county, with multiple elected councils, a wide range of stakeholders, a complex web of cross-sector partnerships, and a mix of towns, suburbs and rural areas, best organise itself to make climate strategies work?
Local climate governance: Developing effective climate policy in a multi-authority local area addresses this question using Surrey, the first county to set up a Climate Commission, as its case study. Surrey needs to bring together a very diverse set of stakeholders: the county's local authorities are developing their own climate strategies, as are many stakeholder organisations, so the governance scene is rich and complex.
The Surrey Climate Commission (SCC) aims to coordinate and inspire ambitious action for decarbonisation and the development of an innovative sustainable economy over coming decades. The proposed project will help SCC and its stakeholders find ways to meet the challenges of local climate governance and generate knowledge and guidance for new Climate Commissions and networks emerging in non-metropolitan local authority areas across the UK.
Climate resilience and planning guidelines in Somerset
The climate hazards that properties will face will change significantly over their used life.  Today's planning decisions will contribute significantly to the vulnerability they have to those hazards.  Whilst there are guidelines for planners on how to accommodate changing climate risk over the next 100 years, for a complex set of reasons, throughout the country planning decisions rarely provide resilience to the levels of climate hazard proposed in the guidelines. 
Contribution of regional adaptation and insurance expertise to climate resilience will be delivered through the networks of Trioss, Pengwern and ClimateWise. The project will assess the risk gap between climate resilience delivered in current planning processes in flood-prone Somerset, and the levels advised by the guidelines.  It will identify conditions under which the gap reaches the point where properties are no longer insurable (or affordably insurable).  It will also assess what adaptation measures could keep the risk gap at a level which would keep the properties insurable.  Lessons will be gathered and shared with the planning and policy development community. 
Local authorities and citizen engagement (Fellowship)
Lina Brand Correa's PCAN Fellowship will work towards embedding participation and deliberation in the day-to-day decision-making of local authorities. The green path to recovery: Towards a participatory and place-based economy will explore different participatory methods that have been used successfully in the UK and elsewhere in order to pilot and evaluate some of them in partnership with PCAN local authorities.
Lina Brand Correa, from the Priestley International Centre for Climate at the University of Leeds, said: "The overall goal is to produce a report for local authorities on methods for sustained citizen engagement, that can be used to deepen and broaden democratic processes beyond one-off events and traditional sporadic consultations or elections.
"This project will further PCAN's goal of embedding climate action in localities and building broader capacity for transformative change, recognising that the latter comes from continued engagement and dialogue."
Exploring the meaning of "place" (Fellowship)
Mitigation efforts tend to dominate climate policy, but the urgency of the climate crisis means adaptation is increasingly becoming an important governance theme, says University of Edinburgh-based Matthew Lane. Rather than seeing adaptation as something simply needing to be considered by place­-based action, his PCAN Fellowship research, Place as adaptation: Understanding neighbourhood resilience in the aftermath of Covid-19 is premised on the notion that sense of place is a concept which itself emerges through the way in which people adapt to prevailing social, economic, and environmental conditions.
Matthew Lane said: "In essence I am asking what do we actually mean when we talk about "place" based climate action? What is (and is not) "place"? Is it the same "place" that is used by government policy on "place-making"? I will then explore this by looking at the recognised problem of residential housing estates which have been criticised for lacking a "sense of place" in order to understand how this prevents adaptation to Covid-19 and to climate change."
The challenge of adaptation and competing priorities (Fellowship)
New PCAN Fellow Dr Alice Hague of the James Hutton Institute in Aberdeen will research place-based climate action in the north-east of Scotland, asking how place-based sustainability partnerships address competing demands and priorities in the development of local climate strategies. During her Fellowship, Alice will study how local councils act as a nexus in engaging employers, business, communities and third sector organisations in climate adaptation, and seek understanding the opportunities and barriers for place-based climate adaptation.
Alice Hague said: "The north-east of Scotland makes for an interesting case study for place-based climate action: the oil and gas sector is a major employer, despite recent downturns, yet much of the region is rural and agricultural, and recent flooding events mean that residents are acutely aware of the effects of climate change."
Alice has co-produced her research plans for Place-based climate action in north-east Scotland: Investigating climate action where urban and rural meet with local government officials through Climate Ready Aberdeenshire, a recently established climate adaptation and resilience group hosted by Aberdeenshire Council. 
Image: Preston wll be the focus of a project  on recovery from Covid-19 (Andrew Gritt, CC BY-SA 2.0)